An Irish Round Tower in Northern California
Rare Opportunity
Few stonemasons get the opportunity to build structural stone buildings. Fewer still get to work on a round tower in the medieval Irish tradition. On the coast of northern California, members of the Stone Foundation are building just such a tower.
---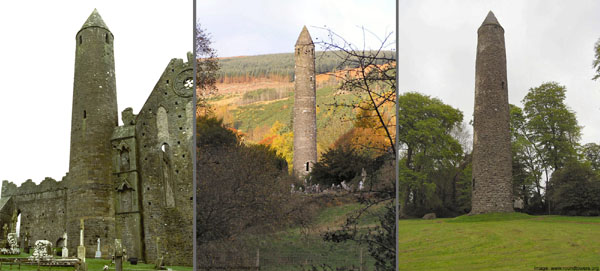 Uniquely Irish Towers
Round towers are an almost uniquely Irish phenomenon. There are perhaps 80 round towers in Ireland, most built in the 11th and 12th centuries. Although some are in ruins, many still stand to their full height. There is disagreement on the original purpose of Irish round towers. They don't seem have been defensive structures and aren't usually placed appropriately in the landscape to be lookout towers. The preferred explanation today is that they were bell towers and places of refuge.
Images above from left: Cashel Tower, Glendalough Tower, Antrim Tower.
---
Design
The Fish Rock Tower, designed by Patrick McAfee, has all of the elements common in traditional Irish round towers: a 40:1 batter, a spiral staircase, arched windows, battered doors with lintels and relieving arches, string courses, embrasures, and when completed in summer 2016, a conical stone roof with stone shingles.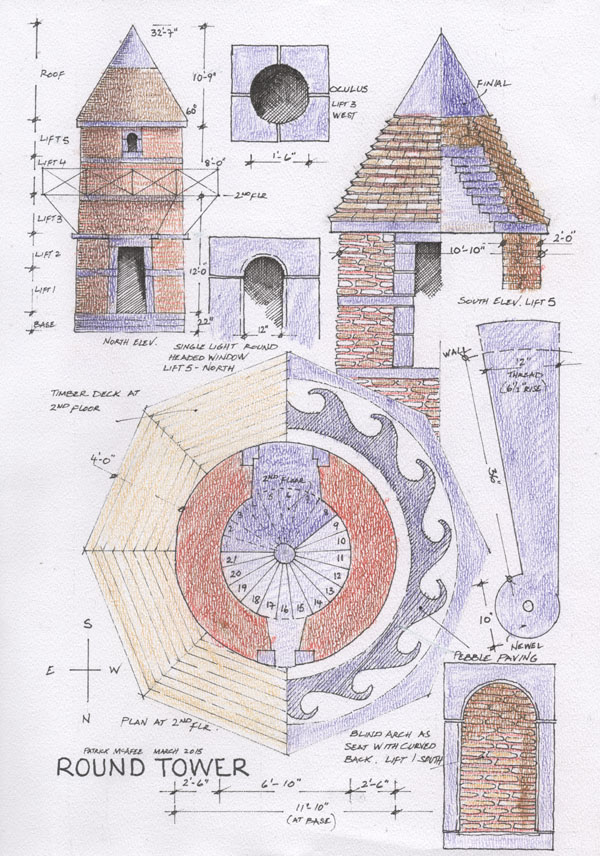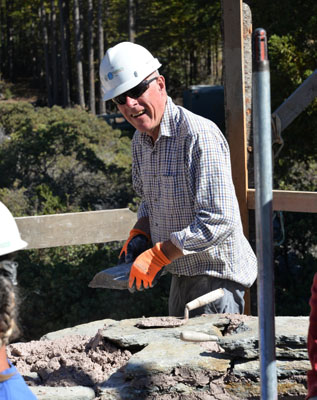 Master Mason
The designer and master mason for the Fish Rock Tower is Patrick McAfee (shown at left) of Ireland. Patrick has spent a lifetime building and repairing castles, bridges, churches, and cathedrals in Ireland and throughout Europe.
---
Kyle Schlagenhauf (center, at right) is the lead mason for the tower. The rest of the crew is comprised of skilled and experienced stonemasons and carvers from around the U.S.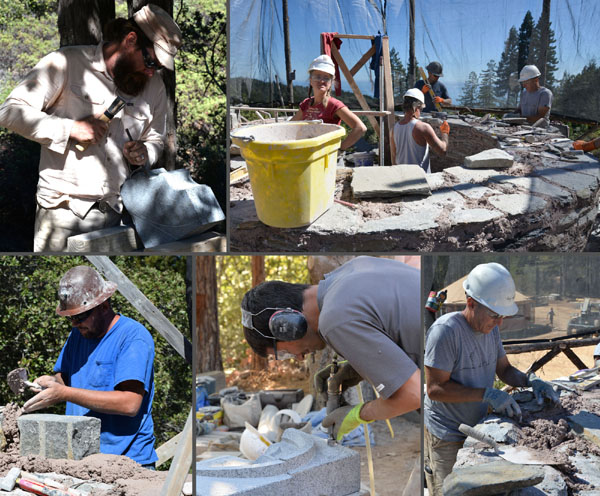 ---
Like the Irish tower of Glendalough, the primary wall stone for the Fish Rock Tower is mica schist that is quarried in California. The stair treads, window and door surrounds, string courses, and other features are cut from Academy Black, a granite also quarried in California.
---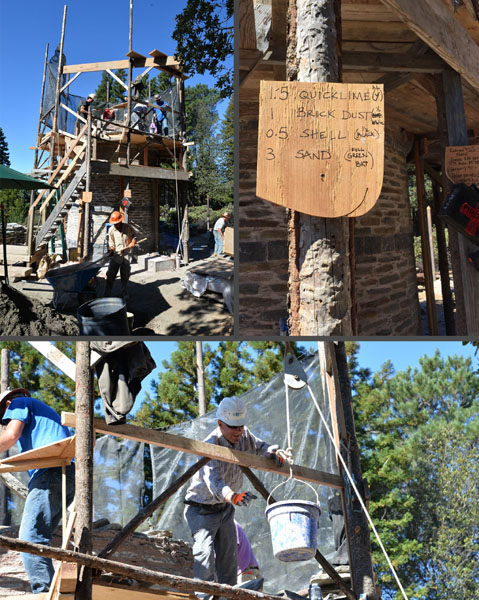 Hot Lime Mortar
Like all medieval Irish round towers, traditional hot lime mortar is being used in the Fish Rock Tower. Lime mortars are more flexible and resilient than cement mortars, allowing them to better handle movement without cracking, which may be critical in earthquake-prone northern California. The mortar mixture is 1.5 parts lime, 1 part brick dust (as a pozzolan), 0.5 parts oyster shells, and 3 parts sand.
---
Peter Mullins is a generous patron of fine stone masonry and stone art in northern California.