The high prairie north of the Little Belt Mountains in central Montana seems like an endless stretch of flat-topped benches separated by deep ravines called "coulees." This is where we quarry Flatwillow Fieldstone, a Cretaceous sandstone eroded from the then-rising Rocky Mountains around 100 million years ago.
---
Quarrying Flatwillow
The best Flatwillow sandstone beds are usually exposed at the top edge and on the surface of benches because the sandstone beds are more resistant to weathering than the underlying shales.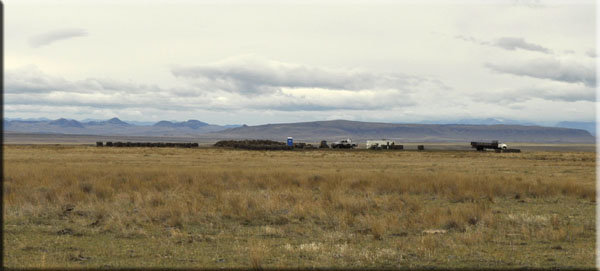 ---
Flatwillow Moss Rock
The uppermost beds exposed at the surface of the benches are weathered and often have a partial covering of lichens. This form of Flatwillow is one of the widely used "Montana Moss Rocks". The best Flatwillow Moss Rock is sorted and palletized directly in the field, as shown below.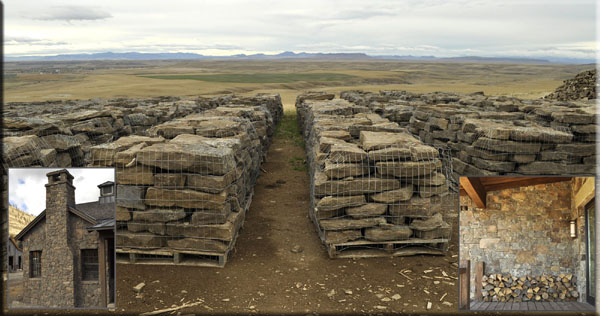 ---
Splitting and Processing
Many natural Flatwillow slabs range from two to six feet across, as shown below. These slabs are sent to our hydraulic stone splitters where they are chopped into a variety of wall stones, stair treads, and dry stack for retaining walls.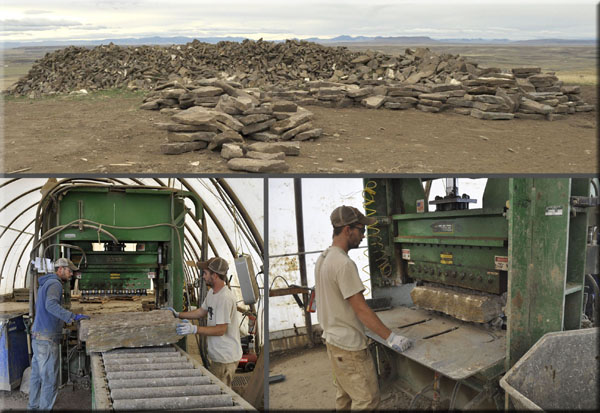 ---
Chopped Flatwillow
One of the most popular products we've developed is Flatwillow Fieldstone that has been chopped into rectangular shapes, as shown below. The weathered faces of the stone are exposed in a masonry wall.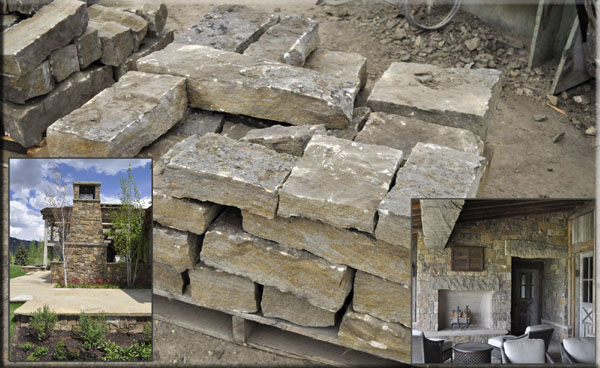 ---
Flatwillow Split-Face
Flatwillow Split-Face shows the unweathered colors and textures of the freshly-broken sandstone surface. The fresh surface has a natural warm gray-tan color range. Flatwillow Split-Face is available both tumbled and untumbled, as shown below, and also as thin veneer.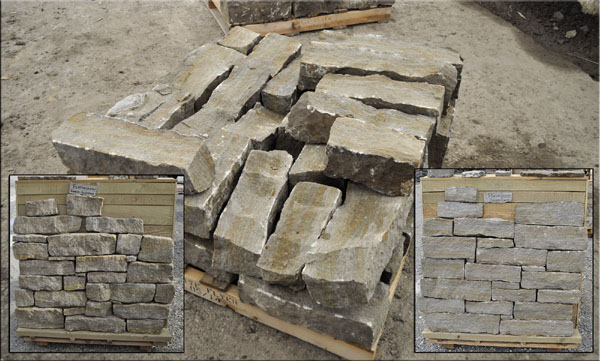 ---
Flatwillow Dry Stack and Stair Treads
Flatwillow Dry Stack can be fit into tight, stable retaining walls. The best natural Flatwillow slabs are commonly chopped into rustic stair treads up to almost four feet long.
---
Flatwillow Boulders
The sandstone layers of the Flatwillow also produce beautiful blocky weathered boulders and slabs, as shown below. Landscape contractors find many uses for these boulders and slabs.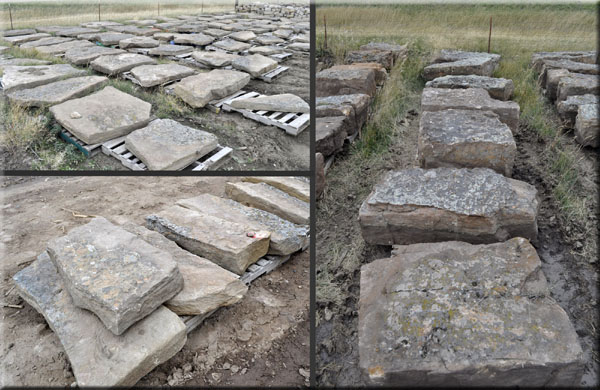 ---
Flatwillow Up Close
A close-up look at the Flatwillow shows it is composed mostly of light (quartz) and dark (chert) sand grains along with a scattering of orange/pink grains that are apparently the ancient remains of fish scales and bones. It is these orange/pink grains that give the Flatwillow its distinctive colors and patterns.