A Guilded-Age Mansion Built from Indiana Limestone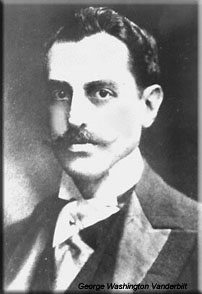 At the height of the Gilded Age in 1889, 26-year-old George Washington Vanderbilt II (shown at right), grandson of the railroad and steamship magnate Cornelius "the Commodore" Vanderbilt, began construction on what remains the largest private residence in the United States.  The Biltmore House, near Asheville, NC, was modeled after three 16th-century Loire Valley chateaux by architect Richard Morris Hunt.
To make sure there was room for guests, Hunt and Vanderbilt designed in 250 rooms, including 35 bedrooms and 43 bathrooms, along with 65 fireplaces and an indoor swimming pool.
The original estate encompassed 125,000-acres.  Famed landscape architect Frederick Law Olmstead, of Central Park fame, was contracted to design the gardens and landscape.
Indiana Limestone on a Gneiss Foundation
The foundation, shown below, is faced with a local gneiss ("nice") that the stonemasons cut into a three-course ashlar with hand-pitched faces. This was no small task with this hard crystalline stone.  They were surely much happier once they got to work with the Indiana Limestone, which makes up the great majority of the Biltmore.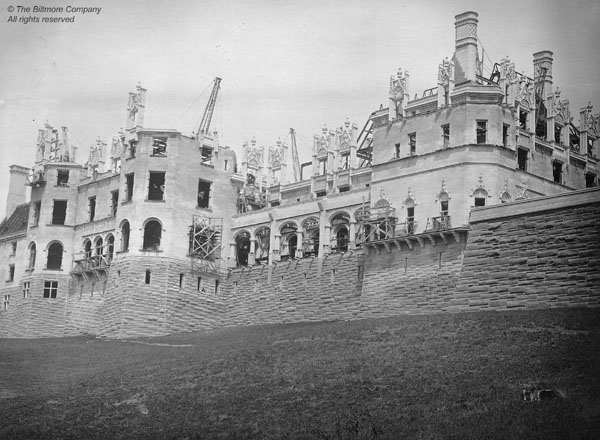 The stonemasonry contract was awarded to James Sinclair & Company of New York.  Stonemasons, many of whom were recent European immigrants, were the highest paid tradesmen at the Biltmore, receiving $3.50/day. To ease delivery of the nearly 5000 tons of Indiana Limestone, in 287 rail cars, a three-mile long rail line was extended into the property.

Why Indiana Limestone?
By 1889, Indiana Limestone already had a long history as one of the country's most desirable building stones. Its consistency and workability made it the favored stone for detailed architectural carvings like the columns, capitals, balustrade, and other elements at the Biltmore (see images below).  In the late 19th-century, architects and builders took advantage of the greatly expanded rail service to transport Indiana Limestone to projects throughout the US.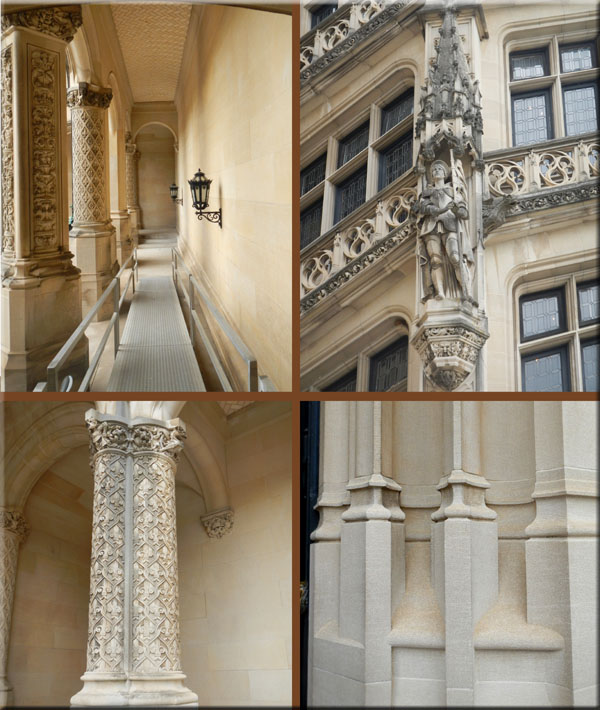 Indiana Limestone's superior workability is due to its uniform matrix of very small fossils and fossil fragments along with oolites, as shown in the magnified image below (click image for full-screen view).  There is very little layering in Indiana Limestone; consequently, it can be sawn and carved in any direction.  It appears to stand up well to weathering based on the multitude of notable buildings built with it, including the National Cathedral in Washington, the Empire State Building, and hundreds of federal and state buildings throughout the country.